(VENDORS) 3rd Annual T.B.L.E. "I AM Fierce Fashion Extravaganza"

Saturday, October 26, 2013 from 12:00 PM to 6:00 PM (CDT)

Houston, United States
Event Details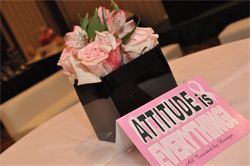 Breast Cancer Awareness Fundraiser
About The Annual Total Beauty Ladies Events
All Twisted by Design is a company dedicated to the cause of empowering women to be confident and successful through our Total Beauty Ladies Events. We are also dedicated to educating families about healthy habits through health and wellness activists.
Our 3rd Annual Total Beauty Ladies Event is centered on the theme of "I AM Fierce" to honor the courage of those who have and are fighting against Breast Cancer. Ladies, state-wide, are invited out to enjoy empowering messages from our Health & Wellness guest speaker . They are also welcomed out to shop our vendors and be pampered as they enjoy a day out with the girls.

Each year we benefit an organization that raises awareness and supports the fight against health crisis women all over the world battle each day, education, and provides family support. We will benefit the National Breast Cancer Foundation Inc.

Who are Our Guests:
We have opened our doors to welcome, women, men, and children! We anticipate an attendee total of 300 hundred guests with 100 of them being our VIP guests. Our attendees are cancers survivors and/or fighters, ladies who support fundraising, and ladies who love to shop. Our attendees look for for the latest in fashion, hair care & skin care products, natural/handmade products, art, enjoy pampering services, and a variety of information that will enhance their lives.
Event Features!!!
Best Vendor Booth- Win a FREE booth for our 4th Annual TBLE

Pink Shoe Contest- Open to all attendees & Vendors

Beauty Bucks Contest- Your guests will receive discounted tickets

Help us fill the house with attendess for a chance to win a BIG prize!!

Complimentary Pampering Services
Event Vendors: 
All Twisted by Design

Arbonne International

Designs by Monroe

House EL Boutique

It Works Body Wraps

Jolla Bella Hair Supply

LAMIK Beauty

Organic Root Stimulator

Plexus Worldwide

Mary Kay

Scentsy Fragrance

Scorleo Inc. 

Susie's Baskets

Traci Lynn Fashion Jewelry

More TBA
Online Vendor Booklet: http://www.totalbeautyladiesevent.com/TBLE-Vendor-Booklet.html
Event Link: www.iamfierce.eventbrite.com
Sponsorship Link: www.iamfiercesponsors.eventbrite.com
Email Us: vendors@totalbeautyladiesevent.com
When & Where


Crowne Plaza Hotel
(San Jacinto Ballrooms)
8686 Kirby


Houston

, 77054


Saturday, October 26, 2013 from 12:00 PM to 6:00 PM (CDT)
Add to my calendar
Organizer
Total Beauty Ladies Event
Greetings,
My greatest pleasure is hosting events where I can provide an atmosphere that encourages laughter, smiles, uplifted spirits, and joy. As a single mother, I often wore many hats that called for all of my energy. Even now as a wife, I still have a collection neatly arranged waiting for their day.  So to put on these events brings great joy to see ladies, some who wear multiple hats at once, take a moment to enjoy just being a WOMAN!
We are a

beautiful creation; born purposed, strong, equipped to birth life, intelligent

and many more adjectives that only describes our essence at levels words cannot fully express. Sometimes.....we need a gentle loving reminder of our calling, that "

beauty is from the inside out

".
In 2010 I published my first inspirational poetry book,

Therapy for Your Soul Book of Poetry

. The next few months, I truly enjoyed the pleasure of meeting and encouraging people at book signings. By this time, the usual guests of my annual ladies events were requesting their next date to network and socialize. I began to search for a creative way to blend my book and my annual ladies events. Shortly after, the 1st Annual Total Beauty Ladies Event was debuted.
In addition to hosting events where we can let our

hair down

as women and writing, I also design. I love to create handmade jewelry and accessories from my brand

All Twisted by Design

. I am also an event planner and designer. I love creating, whether it is a piece of jewelry, art, or story. Whatever I can envision, I replicate through attention to detail and focused passion.

Designing for me, is like breathing. It is a natural neccessity for me living

.
"We all have a gift that can enrich this world.
 When we share our gifts we all benefit."
CEO All Twisted by Design
Founder of the Total Beauty Ladies Events
Author:

"Therapy for Your Soul Book of Poetry" &
"The Day I Dressed the Big Boy Way"